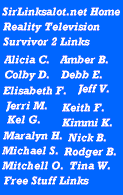 Start Making Survey Money Today And Receive 4 Free Bonuses!
Download Unlimited Music Movies and Videos.
Scan your PC Absolutely FREE to check for dangerous SpyWare
Copy DVD, VHS, PSX, PS2, Download Movies
Government Seized Vehicles From $200
Pickup, Dating and Seduction Guide

News Articles about Survivor Contestant Michael Skupin
Flint Journal 9/13/02 Survivor' golf could have players roughing it
Detroit News 9/6/02 'Survivor' golf outing will be a challenge
Zap2It 1/4/02 Former 'Survivor' Skupin's Office Burns
CBS Early Show 9/26/01 Michael Skupin: A True Survivor
Zap2It 9/25/01 Skupin Survives Crash Landing
BBC 7/19/01 Survivor pig death prompts new law
Zap2It 7/19/01 'Survivor' Prompts New Australian Animal Rights Code
E!Online 7/10/01 Wanted: "Survivor" Pork Chops
Zap2It 7/10/01 Australian Animal Rights Group Analyzes 'Survivor' Slaying
Sunday Times 6/17/01 Bunny-hugger attacks Survivor's pig-killer
E!Online 6/13/01 "Survivor" Pig-Slayer Peppered!
Zap2It 6/13/01 'Survivor's' Michael Attacked by Activist
Milwaukee Journal 6/13/01 Survivor Michael Attacked By Activist
Zap2It 6/10/01 'Survivor's' Skupin for Senate
Grant County News 4/23/01 Michael enjoyed time spent with Rodger
Globe and Mail 4/14/01 Q&A Michael Skupkin
Hampton Roads 3/21/01 Burn victim shares 'Survivor' story with '700 Club'
Cincinnati Post 3/20/01 Pig kill on live radio is 'Survivor' copycat
Toledo Blade 3/7/01 With Skupin out of the picture, 'Survivor' tribes set to merge
Detroit Free Press 3/5/01 Survivor III: The Fieger challenge?
Cincinnati Enquirer 3/3/01 Survivor leaned on Bingham after fire accident
Cnet 3/2/01 Web spills "Survivor" secrets
Zap2It 3/2/01 Mike: '"Survivor" Changed My Life'
Salon 3/2/01 The outback bites back!
E!Online 3/2/01 "Survivor": Michael Burns, CBS Wins Thursday
Oakland Press 3/2/01 Local man is no longer a "Survivor"
Zap2It 3/2/01 Episode Six: Mike Falls Victim To Fire
Zap2It 3/2/01 Michael Out of 'Survivor' Following Accident
Time 3/2/01 Ouch! Mike — No Shrimp He — Falls on the Barbie
Milwaukee Journal 3/1/01 Injury forces Michael out of Outback, off show
Canadian Press 3/1/01 A touch of reality to Survivor II
BBC 2/23/01 Pig row hits Survivor
Zap2It 2/22/01 Aussies Look Into 'Survivor' Pig's Death
Grant County News 2/22/01 Grant County's Look At Survivor II
Post Gazette 2/17/01 Survivor Hype
Milwaukee Journal 2/17/01 'Survivor' Criticized on Pig Killing
Zap2It 2/16/01 CBS Responds To PETA Charges
Zap2It 2/16/01 PETA Riled Up About 'Survivor' Pig
Film Threat 2/5/01 My Bizarre Connection to Survivor
National Enquirer 2/1/01 Survivor 2 Star in Battle With Killer
Oakland Press 12/28/00 Oakland "Survivors" mum about show
Milwaukee Journal 12/28/00 TV secrets can't survive Internet
wdiv 12/27/00 Chef Famie Will Be An Australian 'Survivor'
Zap2It 12/26/00 Identities Of 'Survivor II' Contestants Revealed
---

---
This site is not affiliated with CBS, The Survivor shows, it's producers or anyone that has anything to do with the show.
Copyright © 2000 - 2013 Walker Marketing Inc. All Rights Reserved Privacy Policy Terms of Service