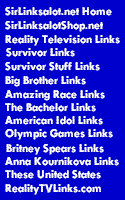 Start Making Survey Money Today!
Download Unlimited Music Movies and Videos.
Scan your PC Absolutely FREE to check for dangerous SpyWare
Copy DVD, VHS, PSX, PS2, Download Movies
Government Seized Vehicles From $200
Pickup, Dating and Seduction Guide
Click here for Fraternity Life Links

News Articles about MTV Networks Fraternity Life
KSBW Channel 9/18/03 MTV Show Based On UC Santa Cruz Fraternity Debuts
Reality News Online 9/18/03 Fraternity Life 2, Episode 1: Getting to Know You
Reality TV World 9/17/03 'Sorority Life' and 'Fraternity Life' premiering new seasons tonight
Reality TV World 6/17/03 'Fraternity Life' frat has "recognition" permanently revoked by university
Zap2It 6/17/03 UC-Santa Cruz Boots 'Fraternity Life' Chapter
Santa Cruz Sentinel 6/14/03 UCSC boots frat after pet-koi barbecue
UCSC 6/13/03 UCSC revokes fraternity's recognition over fish incident
Reality TV World 6/11/03 MTV's 'Fraternity Life' in trouble with the law again
UCSC 6/9/03 Campus outcry follows MTV shoot
MediaFiends.com 6/8/03 - Fraternity Life: Season 1 Finale
Santa Cruz Sentinel 6/8/03 Protest staged at fraternity
Zap2It 6/8/03 Something's Fishy with MTV's Next 'Fraternity Life' House
Santa Cruz Sentinel 6/7/03 Frat members face charges for killing fish
Television Without Pity 6/6/03 My Big Fat Greek Initiation
Santa Cruz Sentinel 6/4/03 Frat members kill pet koi
MediaFiends.com 6/1/03 Fraternity Life: Episode 12 (5/21/2003)
Santa Cruz Sentinel 5/29/03 MTV copter broke no rules, FAA says
Television Without Pity 5/24/03 ...Welcome To Hell, Part II
NY Times 5/18/03 Can 'Reality TV' Be Translated to Greek?
MediaFiends.com 5/18/03 Fraternity Life: Episode 10 (5/7/2003)
Television Without Pity 5/17/03 Earl Interrupted: Welcome To Hell, Part I
Journal News 5/16/03 Yonkers company severs ties to MTV reality shows
Television Without Pity 5/10/03 Table For Six
Daily Illini 5/9/03 MTV shows draw flak; University greeks happy
MediaFiends.com 5/4/03 Fraternity Life: Episode 9 (4/30/2003)
MediaFiends.com 5/4/03 Fraternity Life: Episode 8 (4/23/2003)
Television Without Pity 5/3/03 She Ain't Heavy, She's My Stalker
Zap2It 5/2/03 Greek is Still the Word for MTV
Santa Cruz Sentinel 4/27/03 UCSC fraternity gets an MTV life
Television Without Pity 4/27/03 Northern Exposure
MediaFiends.com 4/20/03 Fraternity Life: Episode 7 (4/16/2003)
Television Without Pity 4/19/03 Boys On The Slide
Salon 4/17/03 "The Real World," with beer bongs
Santa Cruz Sentinel 4/15/03 MTV scouting UCSC frat for reality series
MediaFiends.com 4/15/03 - Fraternity Life: Episode 6 (4/9/2003)
Television Without Pity 4/12/03 Earl's Gone Wild
Buffalo News 4/10/03 3 UB students arraigned in zoo break-in prank
MediaFiends.com 4/6/03 Fraternity Life: Episode 5 (4/2/2003)
Television Without Pity 4/3/03 Prank Wankers
MediaFiends.com 3/29/03 Fraternity Life: Episode 4 (3/26/2003)
Television Without Pity 3/28/03 How Alex Got His Groove Back
Zap2It 3/28/03 Zoo Not Monkeying Around with 'Frat Life' Pledges
WSTM 3/27/03 Fraternity Zoo Prank Investigation
Buffalo News 3/20/03 Fraternity featured on MTV suspected in hazing
Northern Star Online 3/20/03 Being Greek: Not how it looks on MTV
MediaFiends.com 3/15/03 Fraternity Life: Episode 3 (3/12/2003)
Television Without Pity 3/13/03 Line Me Up, Line Me Down
Reality News Online 3/8/03 Episode 2: Pledges Come and Pledges Go
Television Without Pity 3/7/03 The Frat and the Furious
Media Fiends 3/6/03 Fraternity Life: Episode 2
Television Without Pity 2/28/03 Rush Week
Reality News Online 2/28/03 Fraternity Life, Episode 1: The Rush is On
Media Fiends 2/27/03 - 2.26.03 Fraternity Life
LA Times 2/26/03 MTV gives it the old college try
Television Without Pity 2/24/03 Meet The Greeks
Reality News Online 2/24/03 Sorority Life 2 / Fraternity Life: Meet the Greeks
Zap2It 2/6/03 It's All Greek to MTV
Buffalo News 8/24/02 UB students will star in two MTV series
Click here for Fraternity Life Links
---

---
This site is not affiliated with MTV Network, the Fraternity Life show or its producers
---
Copyright © 2000 - 2013 All Rights Reserved Privacy Policy Terms of Service