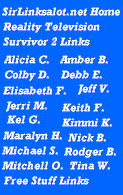 Click The Book
The Stingray


Rich Hatch Book

Ode to Kentucky Joe by Todd Garvin
April 23, 2001

You took a cool swim in your farm pond,
clutching a knife firmly between your teeth.
It helped you earn a trip to the Outback,
with folks such as Colby and Keith.

You were thrust into a group of MTV young'uns,
some being less than half your senior.
But you played the game with grace and charm,
over time getting leaner, but not meaner.

You surprised everyone with your jump from the cliff,
convincing your team not to boot ya.
Though some may have thought you a liability at first,
you evolved into one of the leaders of Kucha.

From that point on folks began to take notice,
even though you hailed from the Bluegrass.
Perhaps it was because of your easy-going way,
or your expertise at catching Aussie bass.

Your spirituality no doubt played a role,
as you led your team often in prayer.
A dirty look we never saw on your face,
although there was definitely more hair.

It was obvious that Michael was the first of your allies,
as you teamed to build a shelter better than Bob Vila.
We watched you share chicken, wild pig and rice,
while others had worms without the tequilla.

Alicia, Jeff and Nick also became your mates,
although Debb didn't really have the time.
You probably even thought very highly of Kimmi,
even if she thought eating chicken was a crime.

Elisabeth obviously meant something special to you,
in turn she thought you a one-of-a-kind laddy.
She claimed you always had the right thing to say,
and fondly referred to you as her "Outback Daddy."

You provided yet another endearing moment to viewers,
when you chatted with family at the Outback Cafe.
It was undoubtedly hard breaking down in front of the camera,
but you weren't the only one unable to keep tears at bay.

Later that night a watching nation did mourn,
as it was your torch that finally got the hose.
Perhaps nothing about you is quite more amazing,
than how you kept from punching Jeff Probst in the nose.

Now birds' songs fill the air and flowers are in bloom,
throughout this fine state that we love.
People go about their business with hardly a care,
as if they've been blessed by above.

But hidden in the depths of each person's heart
is an unparalleled sadness, no doubt.
For no longer is there joy in Survivorville,
mighty Rodger "Kentucky Joe" Bingham has been voted out.

Reach Todd Garvin at (270) 769-1200, Ext. 239, or e-mail at: Fishman77@msn.com.
Todd Garvin writes for The News-Enterprise in Elizabethtown, KY
For more on Rodger check out Rodger Bingham Links
---
---
This site is not affiliated with CBS, The Survivor shows, it's producers or anyone that has anything to do with the show.