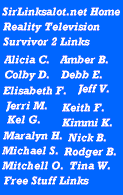 Survivor 2 Video

Start Making Survey Money Today
Download Unlimited Music Movies and Videos.
Scan your PC Absolutely FREE to check for dangerous SpyWare
Copy DVD, VHS, PSX, PS2, Download Movies
Government Seized Vehicles From $200
Pickup, Dating and Seduction Guide

News Articles about Survivor Contestant Jerri Manthey
Zap2It 1/19/10 'Survivor: Heroes vs. Villains': No. 19 Jerri Manthey
Reality TV Fans 1/10/10 Survivor: Heroes vs Villains – Jerri Manthey Interview
Zap2It 1/10/10 'Survivor: Heroes vs. Villains': Villainess Jerri Manthey speaks
Reality TV Fans 1/7/10 CBS Announces 20 Former Castaways to Compete on Survivor: Heroes vs Villains
Reality TV Magazine 10/4/05 Survivor's Jerri Manthey Says Reality Shows Are For Entertainment Purposes
Record Eagle 6/14/05 'Survivor' contestants raise funds for charity
Celebrity Spider 5/18/05 Survivor Star Jerri Manthey Shows New Side as Cooking Columnist
Reality News Online 5/18/04 Was Jerri's Behavior Really So Bad? A Debate
Reality TV Hall of Shame 5/17/04 Opening Her Big Mouth to Get Back in the Hall of Shame: Jerri Manthey..
Reality News Online 5/12/04 Surviving the All-Star Reunion: Emotions Run Hot, Jerri Runs Away
Press Enterprise 5/6/04 Jerri Manthey's softer side
Reality News Online 4/2/04 Survivor: All-Stars – Why Jerri Lost
Reality TV World 4/2/04 Jerri Manthey becomes ninth contestant to be booted from 'Survivor: All-Stars'
MediaFiends.com 4/2/04 - All-Star Jerri on 'Early Show'
CBS 4/2/04 Survivors Jilt Jerri
Calgary Sun 4/2/04 Jerri nixed post-shuffle
CBS 4/1/04 Tribal Shuffle - Jerri Voted Out
Projo.com 3/11/04 Helen Glover: Jerri Manthey annoys the Mogo Mogo women
Reality Hall of Shame 1/12/04 What Will Jerri Do?-A Prediction of Her 'Survivor: All-Stars' Behavior
CBS 1/12/04 'Old' Survivors Set For New Game
Reality News Online 1/10/04 'Survivor: All-Stars' Players Revealed
Reality TV World 9/15/03 'Survivor' Jerri Manthey guest-starring on Spike TV's 'Joe Schmo'
Netscape 4/25/03 Top Ten Reality Celebs - Jerri Manthey
Reality TV Hall of Shame 1/14/03 Following Jerri on 'The Surreal Life' – Episode 1: So Far, So Bad
Zap2It 1/7/03 Jerri Manthey Survives 'The Surreal Life'
Hall of Shame 12/11/02 Jerri Manthey, Wicked Witch of "Survivor 2"
Survivor Central 11/18/02 Details On Jerri Manthey's New TV Show
Electronic Media Online 9/6/02 Notes from a survivor By Jerri Manthey
Journal Star 7/12/02 `Survivor' stars make most of television fame after show
Zap2It 1/11/02 Reality Contestants Revel in the Perks of Fame
Zap2It 11/15/01 Original 'Survivor's' Compare With Africa
Reality News Online 8/29/01 Playboy Web Chat with Jerri Shows More of True Personality
Reality News Online 8/15/01 Jerri in Playboy: Outer Beauty, Inner B****
USA Today 7/26/01 'Survivor' Jerri forms alliance with 'Playboy' .
Zap2It 6/20/01 Manthey Takes It Off For Playboy
Josh Souza Online 5/22/01 Jerri Manthey from Survivor II on Josh's Corner on May 22, 2001
E!Online 5/16/01 The Thigh's the Limit
Detroit News 5/11/01 'Survivor' suffered post show stress
E!Online 5/8/01 A Quickie With Jerri
Washington Post 4/24/01 Young and the Ruthless: 'Survivor 2's' Jerri Guests on Soap
Milwaukee Journal 4/24/01 Survivor's Jerri To Appear on Y&R
Gist 4/23/01 Survivor's Jerri Traumatized
Augusta Chronicle 4/23/01 'Survivor 2': Jerri's good and bad dreams
Zap2It 4/23/01 'Survivor's' Jerri Lands Guest Spot on CBS Soap
Edmonton Sun 4/19/01 Very merry Jerri
Toronto Sun 4/19/01 Jerri survives 'Letterman'
Calgary Sun 4/19/01 Bad behaviour pays
Milwaukee Journal 4/16/01 Hated survivor Manthey doesn't mind paying fame's price
Zap2It 4/5/01 Manthey Willing to Pose For Playboy
Zap2It 4/4/01 Jerri To Face Gumbel
USA Today 4/4/01 Allegiances shift for Jerri-built 'Survivor'
Washington Post 4/3/01 Forget Bug-Eating. Can Jerri Survive Bryant?
Zap2It 4/2/01 Jerri Admits Colby Crush
Post Gazette 3/31/01 Survivor Hype
Zap2It 3/30/01 Manthey Plays Nice on 'Early Show'
E!Online 3/30/01 Jerri Snuffed: A Nation Rejoices
Detroit Free Press 3/30/01 The wicked witch gets her desserts
Toronto Sun 3/30/01 Another 'Survivor' gone
Edmonton Sun 3/30/01 Farewell to another 'Survivor'
Calgary Sun 3/30/01 And then there were seven
Detroit News 3/30/01 Jerri gets ousted from 'Survivor' cast
Time 3/29/01 Survivor: The Queen Is Dead. Long Live the Queen
Louisville Channel 3/29/01 'Survivor': Shocking Ousting
Zap2It 3/29/01 Jerri Latest Victim on 'Survivor'
Richmond.com 3/29/01 Only The Good Die Young ... Not!
Detroit News 3/29textSnorkeling, shocks and a whiny Jerri fill new 'Survivor' episode
Zap2It 3/28/01 Web Users Tap Jerri or Nick As Next Survivors To Go
Zap2It 3/13/01 Web Users Want Alicia And Jerri Off 'Survivor'
Zap2It 3/1/01 Web Users Think Jerri Next Off 'Survivor'
National Enquirer 2/26/01 Survivor Jerri's Wild Sex Romp with Lou Diamond Phillips
Zap2It 2/14/01 Web Users Pick Rodger, Jerri as Next 'Survivor' Victims
Star Magazine 2/12/01 Survivor Temptress Branded Sex Cheat
Zap2It 2/8/01 'Survivor' Jerri's Ex Speaks Up ... And Out
Alabama Live 1/20/01 Former Huntsvillian goes in search of fame, fortune in Australia
Bergen Record 12/29/00 'Survivor' players identified
Milwaukee Journal 12/28/00 TV secrets can't survive Internet
Zap2It 12/26/00 Identities Of 'Survivor II' Contestants Revealed
---

---
This site is not affiliated with CBS, The Survivor shows, it's producers or anyone that has anything to do with the show.